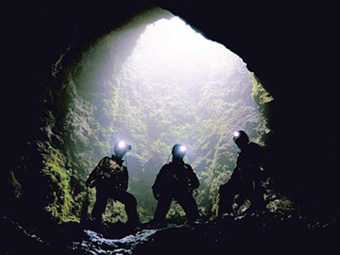 The United States Deep Caving Team (USDCT) was founded in 1980 by explorer, engineer, and inventor Dr. Bill Stone. It was created as an organization dedicated to the exploration, study, and public awareness of the earth's last remaining frontiers and to encourage the development of technologies necessary to achieve those aims. The early focus of the organization was to enable American exploration teams to field world-class expeditions to chart unexplored, and extremely deep air-filled caverns located in southern Mexico. The remoteness, technical nature, and depth of these caves (pushing towards 1500 meters [one mile] beneath the surface of the earth) forced new thinking. Based upon support from the U.S. Deep Caving Team, full time, on site expeditions lasting 3 to 4 months were fielded for the first time by U.S. speleologists. The philosophy then, and now, has been to enable the best amateur explorers in the country to temporarily become full time, volunteer professionals who can settle into an area and tackle an exploration problem in a fashion that would not otherwise be possible.
During the past two decades a litany of new exploration technologies has been pioneered both for, and encouraged by, the USDCT for use on its expeditions. Early efforts were directed to developing techniques for allowing explorers to remain underground for long periods of time at a remote exploration frontier. New concepts for lightweight "alpine" subterranean camps were developed, permitting single-push durations as long as 18 days in total darkness at or below a kilometer beneath the surface of the earth and as far as 11 kilometers traverse distance from the nearest entrance. Completely new techniques were developed for rapidly scaling vertical shafts of staggering heights. And, ultimately, new techniques were developed for dealing with flooded sectors of deep cave systems, where U-shaped folds in limestone stratum tend to trap water. Invariably these features, known as "sumps" or "sifons" are found at the deepest, most remote locations of the caves being explored, usually where a hard layer of underlying rock slows or halts the inexorable descent of the vertical shafts which carry the underground rivers. Experience has shown that in most cases it is possible to explore through such sumps using diving equipment and to discover further air-filled galleries on the other side. However, the remoteness, combined with the requirement of having to transport all diving apparatus on countless ropes up and down the vertical shafts, forced completely new thinking in the way of diving apparatus. Beginning in 1980, the USDCT developed the first diving apparatus to use fully composite pressure vessels. These lightweight, high pressure tanks weighed only a third of similar capacity metal Scuba gear and they enabled a number of ground breaking expeditions throughout the early 1980s. By the conclusion of the USDCT's 1984 Peña Colorada Expedition, however, it was clear that the limits of even the lightweight equipment had been reached and that far more efficient life support backpacks would be needed to continue the exploration projects then underway. This need ultimately led to the development of six generations of closed-cycle life support systems known as rebreathers. Rebreathers have been used on USDCT expeditions since 1987 and have formed one of the core expedition tools since 1994. Other diving technologies, including portable underwater habitats, long range underwater propulsion vehicles, and new ways of mapping subterranean territory, have been developed by the USDCT to answer the call of exploration to such places as Wakulla Springs in Florida, where the caverns are completely submerged.
The USDCT can be reached via mail at 3511 Caldwell Lane, Del Valle, Texas 78617 or by email at .