J2 2009 Personnel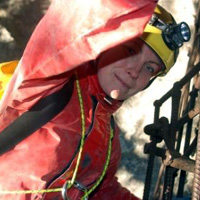 Magda Aksman, Poland


Magdalena started caving 3 years ago in Speleoklub in Warsaw. When she isn't working, she is travelling, skiing, and climbing. She works as a physical therapist, working with children.
---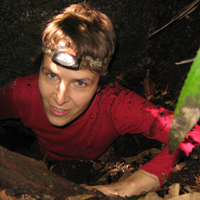 Kasia Biernacka, Poland


Katarzyna Biernacka has been discovering caves for 8 years. Among others she participated in three expeditions to caves deeper than 1000m. She loves Mexico where she studied for one year. Kasia has been exploring in Sierra Juarez with Bill Stone since 2001. She works for one of the biggest publishing houses in Poland as a photo editor. She is a cave photographer, and her underground pictures have won many cave photography contests around the world. She is the mother of 3-year-old Zuzia, the youngest member of the expedition.
---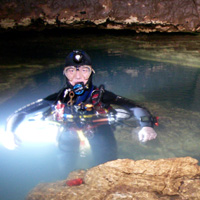 James Brown, USA

---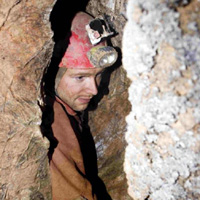 Petr Cáslavský, Czech Republic


Petr has engaged in speleology since he was 15 years old, first in the Bohemian and Moravian Karst where he has documented the existing caves, and gradually he has started doing expeditionary speleology. He is a member of the Czech Speleological Society and the caving group DAV Frankfurt am Main in Germany. He is a veteran of expeditions into the abysmal cave system Loferer Schacht in the Loferer Steinberge mountain range in the Austrian Alps, where he participated in its exploration and photo documentation. Since 2002, he has worked on research of a karst in the Julian Alps in Slovenia within the speleoproject Kanin, contributing to the research and exploration of the -908 m deep cave Ceska jama and -911 m deep cave Skalarevo brezno. In 2008, he participated in the exploration of the Kozi díra cave in the Orjen Mountains in Monte Negro. He is a cave photographer and a specialist in cave documenting. When not caving, Petr works as a designer in the automotive industry.
---
Jim Castelaz, USA

Anthony Castro, USA

---
Matt Covington, USA


Matt grew up caving in Arkansas, and first became interested in expedition caving as a teenager while reading the account of the 1994 USDCT caving expedition to Huautla in National Geographic. Since beginning college, he has spent about one month out of every year on caving expeditions including expeditions to Alaska, Sumatra, Perú, México, and Lechuguilla. The highlight of his caving career so far was during a 2007 expedition to Río Iglesia when he and Yuri Schwartz succeeded in connecting Río Iglesia into Sistema Huautla.

After finishing dual undergraduate degrees in physics and philosophy in 2002 at the University of Arkansas, Matt moved out to California for graduate school. In 2008 he finished his PhD in theoretical astrophysics at the University of California, Santa Cruz. However, after 10 years of schooling in physics, he has decided to pursue his true passion as a career. Currently, Matt is an NSF Earth Sciences Postdoctoral Fellow working in the area of karst research, putting his physics and computer skills to use in studying caves. After spending a year and a half working at the University of Minnesota, he will be heading off to spend two years at the Karst Research Institute in Slovenia.

Selected expedition experience: 1999, 2001 - Tongass Cave Project, Alaska; 2000 - Gunung Ngalu Seribu, Sumatra, Indonesia; 2000, 2001 - Projecto Purificación, México; 2004, 2005, 2006 - J2, Sistema Cheve, México; 2004 - High altitude caving in Perú; 2007 - Río Iglesia/Sistema Huautla, México
---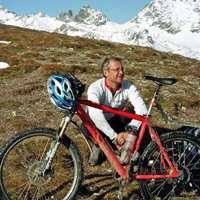 Michael Denneborg, Germany


Michael (Denne) became interested in caving in the early 1980's when he and his group - the SAGA - discovered, after some trips to Spain, Belgium and France, the Monstercave in Austria. Over 25 years of cold (1 C) alpine explorations lead to approximately 60 km of caves in the Steinernes Meer. The main one, Monstercave, has a length of 45 km and is 711 m deep (but still cold). During his thesis in 1986 in Mexico, he met Bill Farr & Carol Vasely, waiting with a friend for a "lift" down to Golondrinas, which took some days as many American groups considered the frog system at that time as "too slow". After two visits of Bill Farr to Monstercave where he wanted to learn more about frog system and rebelays, Denne joined Bill on the 1990 expedition to Cheve. 10 years later he went also on a trip to Charco. After the fall of Communism Denne went on caving trips to Albania, Russia (Sneznaja) and Cambodia. For his PhD on regional groundwater flow and cave systems, he spent more time in Mexico (Sierra El Abra), and also went caving with Jim "Crash" Kennedy from Austin.

When not underground (which has become less frequent in the last few years), he works as a hydrogeologist (consultant). He is married with no kids, and very much enjoys crossing the Alps by MTB, canoeing and backpacking.
---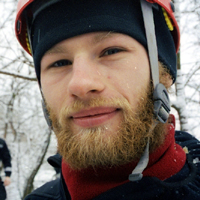 Marcin Derlatka, Poland


Martin joined Speleoclub of Warsaw five years ago. He doesn't like being underground in dark and wet caves, but he thought that caving is a good thing to put into his CV. When not caving he enjoys motorcycling, sailing and backpacking. He's a paramedic, but still hoping to become an airline pilot one day.
---
Luis Gabriel "Wicho" Díaz, México
---
Yvonne Droms, Switzerland


Yvonne Droms started caving in 1967 in Portugal. After moving to the USA, she joined the National Speleological Society in 1985 and has been caving in the Virginia and West Virginia area ever since. She is very active in exploration and survey in the extensive cave systems of Greenbrier, Monroe, and Pendleton Counties, West Virginia. Starting in 2001, she has participated in two expeditions each year to the deep, vertical caves of México: Cheve, Río Iglesia (Huautla), and J2 in Oaxaca, and in the Purificación area of Tamaulipas/Nuevo León.

Yvonne is a Swiss citizen who grew up in Portugal. She is a translator and works for Rosetta Stone in Harrisonburg, Virginia. Her two children are mathematics students in college. Yvonne spends her free time caving and helping with caving publications, and also enjoys hiking, backpacking and mountain bicycling.
---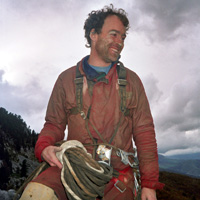 Tony Dwyer, Ireland


Tony was born in Dublin, Ireland. He became interested in caving in the mid 1980's when he moved to the west coast and explored the caves of the Burren and other areas of Ireland.

In 1990 he moved to Aachen in Germany. Here he has caved extensively in Belgium, France and Great Britain. He does most of his exploring on and in the Steinernes Meer mountain range in Austria and the Sieben Hengste system near the Eiger in Switzerland. He has also joined a number of expeditions to Mexico and caved in Australia and New Zealand.

When not underground, Tony works as an air traffic controller for Eurocontrol in Maastricht. He is married with no kids, and enjoys backpacking, climbing, and skiing.
---
Mike Frazier, USA

---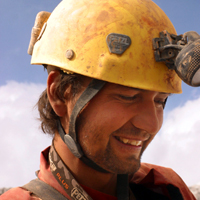 Marcin Gala, Poland


Marcin Gala has been a speleologist for 18 years. He participated in exploration expeditions to Austria, México, Papua New Guinea, and Spain. He's fascinated by cave photography and cave diving. Usually he goes for expeditions with Kasia Biernacka and their daughter, Zuzia. They have been exploring in Sierra Juarez with Bill Stone since 2001. Marcin is a vertical caving instructor, and a member of the safety commission of the Polish Association of Alpinism. He works as a rope access technician and rope rescue trainer.
---
Fofo González, México
---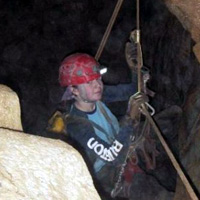 Nikki Green, USA


Nikki started caving at University of Maryland with the Terrapin Trail Club. She fell in love with caving by leading beginner/intermediate trips for members of the outdoors clubs and grottoes she was active in. She now spends all of her free time participating in the exploration and survey of caves in Pendleton and Tucker Counties, West Virginia. When not caving, Nikki works as a server and enjoys hiking, backpacking, and rock climbing, as time allows.
---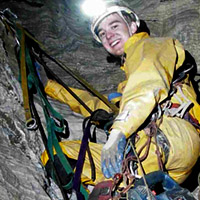 Will Heltsley, USA


Will grew up in Tennessee and explored his first wild cave when he was eight, when he developed an instant and lifelong passion for caves. He honed his caving skills in Tennessee and surrounding states before moving to California in 2000 to attend school. Since his move, he has been very active in the exploration, survey, and scientific study of Lilburn Cave (California's longest) and numerous other exploration projects throughout California. In 2003, he joined an expedition to Villa Luz Cave in Tabasco, Mexico to explore and study this uniquely hostile cave environment. He is also active in exploration and survey of Mammoth Cave and Martin Ridge Cave in Kentucky. He currently holds the position of Chairman of the San Francisco Bay Chapter of the NSS, one of the largest grottos in the Society, and is a Fellow of the Cave Research Foundation.

When he is not underground, Will is a mechanical engineer, currently specializing in supersonic fuel mixing and combustion processes in scramjet engines. He holds a BS from the California Institute of Technology and an MS from Stanford University, both in mechanical engineering. He anticipates receiving his PhD from Stanford, also in mechanical engineering and with a minor in geology and environmental science, in July of 2009.
---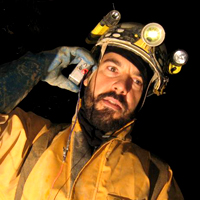 Bart Hogan, USA


Bart Hogan can place an order with McMaster-Carr from anywhere.
---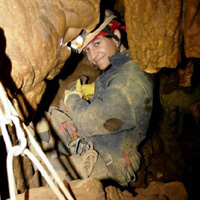 Heather Levy, USA


Heather Levy entered her first cave while growing up in California, a wet tunnel in the Pinnacles National Monument. She has been involved in mapping and exploring caves for the last 15 years, in many areas of the United States, including New Mexico, Kentucky, and Tennessee. She has also led and participated in caving expeditions in Mexico, Peru, and Slovenia. Lately, she has been learning how to cave dive in Florida, exploring caves in West Virginia, and rock climbing in the DC area.

Heather is an active-duty soldier in the U.S. Army, currently serving as Assistant Professor of Military Science at Johns Hopkins University in Baltimore.
---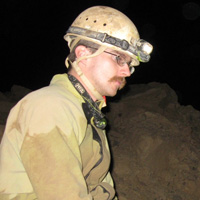 Jon Lillestolen, USA


Jon Lillestolen grew up in Tennessee, where he got his start caving in the mid-90s. With an ever-growing need for new caves to explore, he learned the ways of caving through friends and fellow members of the Tennessee Cave Survey. In the early 2000s, he was introduced to a group of Virginia cavers whom are arguably the toughest in the United States. The Virginians threw every tough cave Jon's way until he was beaten to a bloody pulp and emerged with a new respect for deep caves and the exploration thereof. In 2005, after deciding to quit graduate school, Jon was very fortunate to join the second USDCT expedition to explore J2 where he helped in the push to that year's depth of -1101m. The following year, he again helped push J2 to its current depth of -1209m. With much excitement, Jon joins this years expedition as a logistical diver and load-hauling specialist.

Jon remains active in deep caving circles, having helped in the exploration of five 1000m deep cave systems, but his favorite caving areas remain the Appalachian karst areas of the Cumberland Plateau and a tiny corner of Virginia called Burnsville Cove. He also enjoys hard aid climbing and testing his mettle on the tough traditional climbing routes of North Carolina.

When not caving, Jon works as a Professional Firefighter and moonlights as a Borat impersonator. He lives in Knoxville, Tennessee where he dreams someday of starting his own climbing/caving gear company.
---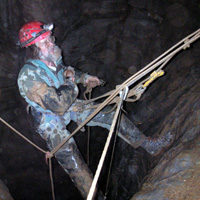 Mark Minton, USA


Mark Minton has over forty years caving experience in most of the major cave regions of the United States and Mexico. He also participated in three paleontological expeditions (1992-94) to the caves of Madagascar, which visited that country's deepest and longest caves. He has been a leader and/or member of many expeditions to the deepest caves in the Western Hemisphere, including five caves over 1000 meters deep, one of which he discovered. Mark has received several flag awards and exploration grants from the Explorers Club and has had over 70 articles published in various caving journals and the Explorers Journal. He continues to be very active in original exploration in West Virginia and Mexico.

When not caving, Mark worked as an organic chemist for 30 years and is recently retired. He lives in Virginia with team member Yvonne Droms.
---
Jose Morales, USA

---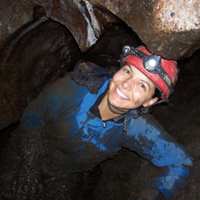 Nina Muller, Canada

---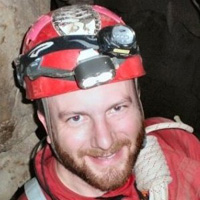 David Ochel, Germany


David has been a caver since 2005, being particularly fascinated by the exploration of deep caves and everything that involves rope work. He gained most of his expeditionary caving experience in México, in places like the Sistema Purificación and Sótano del Río Iglesia, and has also been caving in Texas and Montana. David is a member of the UT Grotto in Austin, Texas, and the Association of Mexican Cave Studies of the National Speleological Society in the US. Being a transplant from Germany, he has spent the last five years of his life in Austin, Texas. When not caving, David works as a professional in the area of information security management.
---
Kasia Okuszko, Poland

---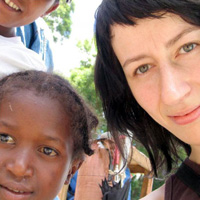 Paulina Olinkiewicz, Poland


Paulina joined Speleoclub of Warsaw in 2006. She has also been a member of the High-Mountain Warsaw club since 2004. She loves traveling all over the world. Since 2000, she has been in many places in the Middle and Far East (Turkey, Iran, Pakistan, India, and Nepal) and also in African countries such as Morocco and Madagascar. She is a graphic designer and working for a magazine.
---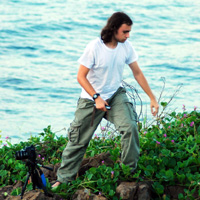 Michael Pugliese, USA


Michael Pugliese is a commercial photographer based out of Austin, Texas. He maintains a reputation among business peers in his hometown for subjecting himself and his equipment to harsh extremes with the hope of nailing a unique perspective. Being somewhat of a newcomer to the caving world, he hopes to assist the J2 expedition primarily through photo documentation.
---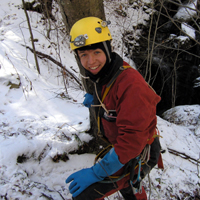 Yuri Schwartz, Russia


Yuri Schwartz was born in Novosibirsk, Russia. He started caving in 1978 at age of four with his father Boris Schwartz who was then an active member of the Novosibirsk State University caving club. In 1995 Yuri co-founded Novosibirsk Diggers Caving Team with which he explored numerous caves of the nearby Altay Mountains. Upon moving to Geneva, Switzerland in 2001 Yuri joined Societe Spleologique Genevois to help with exploration of caves in Switzerland, France and geothermal ice caves in Iceland. Since 2005 Yuri has been active in the Western Hemisphere where he participates in exploration and survey of several interesting caves in West Virginia. Yuri's association with USDCT started in 2007 when he took part in the expedition to Río Iglesia/Huautla lead by Bill Stone.

In his other life Yuri holds a PhD in Biology and is interested in epigenetic mechanisms of genome programming in animal cells. Currently he pursues his interests as Research Associate with the Department of Molecular Biology and Biochemistry at Rutgers University, NJ. He is married and has one daughter.
---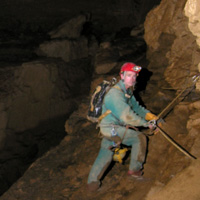 Tommy Shifflett, USA


Tommy Shifflett has 39 years caving experience. He began his caving career in Virginia and West Virginia, soon joining organized caving groups in exploration and mapping and extending activities to other states such as Kentucky, Tennessee, and New Mexico. In 1976 he began exploring some of the deep caves in Mexico with Mark Minton, and later in 1979 with Dr. Bill Stone in Huautla, Mexico. Tommy has been involved with exploration in the Huautla System in Mexico, Charco, and J2, all over 1,000 meters in depth. Tommy has also explored caves in the Dominican Republic and China. In Virginia and West Virginia he has been a principal explorer of some of the deepest and most challenging caves in the eastern US, including the Chestnut Ridge Cave System and Omega System of which he remains active.
---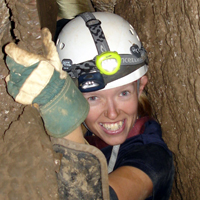 Vickie Siegel, USA


Vickie started caving while working as a ranger at Wind Cave National Park in South Dakota. From there she was quickly absorbed into the realm and lifestyle of expedition caving and now lives in Austin, Texas. She has been the Cartography Coordinator for Caves of Tabasco, a project under the NSS, since 2005 and has led 4 multi-week expeditions to the Tabascan karst. Vickie participated in the USDCT's 2006 J2 expedition and the 2007 Rio Iglesia trip. She has also been fortunate to participate in numerous other caving projects and trips further north in México, ranging from Proyecto Espeleogia Purificación in Tamaulipas to Bat Conservation International bat surveys in Chihuahua and Sonora and much more. When caving allows, Vickie works as a robotics technician and logistics manager for Stone Aerospace. Most of that work has focused on NASA's DepthX and ENDURANCE projects, with several months of field work at the Zacatón cenote in Tamaulipas, México and at Lake Bonney in the Taylor Dry Valleys of Antarctica.
---
José Antonio Soriano Sánchez, México
---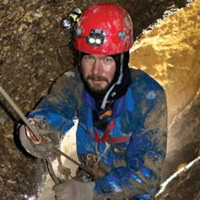 Seth Spoelman, USA

---
Bill Stone, USA


Dr. Stone has been responsible for organizing and participating in the exploration of Sistema Cheve (-1484m), Sistema Huautla (-1475m), Cueva Charco (-1286m) and J2 (-1210m). During the past 35 years Bill has organized and led 51 expeditions. He has spent more than seven years in the field on these projects of which 403 days were logged below ground based from underground camps. The longest single mission was 18 days operating from the -1300 m level of Sistema Huautla. During the course of the 4-1/2 month expedition team members spent 44 days below the -800 m level. In parallel, Dr. Stone has pioneered the development of computer-controlled diving apparatus, diver propulsion vehicles, 3D underwater and dry cave mapping equipment, spacecraft reaction control systems, next-generation laser radar systems for unmanned ground vehicles, and novel re-entry vehicles. In April of 2004 Bill was selected as Principal Investigator to lead the NASA project to develop the Europa lander third stage prototype - the "hydrobot" that will explore the hypothesized subsurface ocean on that Jovian moon and to autonomously search for life. The first prototype, known as DEPTHX (DEep Phreatic THermal eXplorer), was tested in 2007 at the deep Mexican cenote at Zacatón, and the second prototype, ENDURANCE (Environmentally Non-Disturbing Under-ice Robotic ANtarctiC Explorer), will begin its second season of exploring frozen-over Lake Bonney in Antarctica this October. Bill is the author of the Time-Warner book "Beyond the Deep." He is an expert in cave rescue, subterranean lead climbing, and digital cartography.
---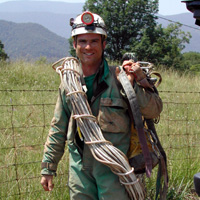 Mark Stover, USA


Mark Stover has been exploring caves since 1997, mostly in New Mexico, Virginia, West Virginia and Mexico. This is his 4th expedition to J2. When not caving, he enjoys climbing, backpacking and scuba diving with his wife Sara. Mark is a doctoral candidate at George Mason University's Institute for Conflict Analysis and Resolution, and works as a systems analyst in Washington DC.
---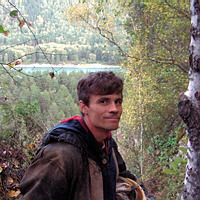 Sergey Tkachenko, Russia


Sergey is from Siberia, Russia. He is very happy to live in one of the nicest places in Altai. The majority of his professional life has focused on information technology. He has worked for the trade company Anix for the past 10 years. His caving experience began in 1989. Since 2003 he has been in the Novosibirsk Diggers Speleoteam. He is happy to be invited to the 2009 International J2 Expedition, and hopes to be beneficial in any way to the plans of the team.
Copyright © 2021 U.S. Deep Caving Team, Inc.
All rights reserved. No portion of these pages may be used for any reason without prior written authorization.